Dimplex Quantum HHR Storage Heaters
Key features of Dimplex Quantum
| | |
| --- | --- |
| Ten-year warranty | Seven day programmer with three pre-set timer profiles |
| LCD display | Technologies designed to save costs |
| Fitted IQ controller | Adjustable electronic temperature controller to within ±0.3°C |
| Calendar function | Auto Boost function |
| Child Lock | Low noise fan |
Design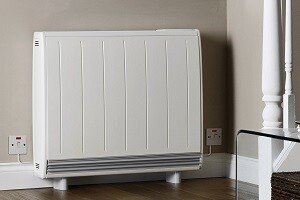 This modern slimline heater offers excellent heating for commercial and residential properties. Its white finish and compact design are discreet, however inside the Quantum possess some of the world's most advanced space heater technology.
Target temperature display is colour coded, aiding the visually impaired, control panel offering manual and digital control. Readings and preset options are easily accessible, incorporating a real time clock and calendar function.
Installation is quick and simple, with manuals for assembly and set up available. A template for correct fixing position is supplied; the heater is maintenance free.
The Quantum comes with our 10-year warranty, is Lot 20 compliant and also BEAB approved.
Efficiency
Quantum is up to 27% cheaper to run than a standard storage heater system. It's also up to 47% cheaper to run than an electric convector or radiator system. Storage heaters provide low running costs as they take advantage of cheaper tariffs by charging at night and storing warmth throughout the day.
The Quantum iQ controller constantly monitors the room and learns your habits. It is able to anticipate future temperature and adapt accordingly to save energy and bring costs down.
The inbuilt fan assists heat dispersion, ensuring even warmth throughout the space. The outlet is featured at floor level, maximising the effect of the heating solution –improved performance leading to energy efficiency.
Categorised as a high heat retention heater, the Quantum has also been accepted as a 'Green Deal Measure' by the Department of Energy & Climate Change, certifying its high economic and environmental standard.
Functionality
The weekly programme allows you to tailor your heating settings to your schedule for every day of the week. The Quantum features a series of preset programmes including holiday mode which can be activated to reduce output and energy wastage when away for extended periods. The child lock setting is perfect for childcare facilities and landlords with student residents.
Provides accurate room temperature control using a thermostat accurate to ±0.3˚C, constantly adjusting to the user's needs through its dynamic storage capacity. The fan assist provides rapid temperature fluctuation and heat-up, with soft-start and boost element available. Boost provides powerful heat immediately and can be activated from the digitised control panel.
The technologically advanced Quantum is easy to use and attractive, offering comfort and effective heating whilst remaining cost-conscious.
Dimensions
| | | | | | |
| --- | --- | --- | --- | --- | --- |
| Model | Output Rating (W) | Height (mm) | Width (mm) | Depth (mm) | Heats up to |
| QM050 | 500W | 730mm | 580mm | 185mm | 5m2 |
| QM070 | 700W | 730mm | 703mm | 185mm | 7m2 |
| QM100 | 1000W | 730mm | 865mm | 185mm | 10m2 |
| QM125 | 1250W | 730mm | 1069mm | 185mm | 12m2 |
| QM150 | 1500W | 730mm | 1069mm | 185mm | 15m2 |
*Please note that this is the non RF version and is not compatible with either the Dimplex hub nor is it WiFi compatible.
Related articles
Dec 12
Heaters, schmeaters. With so much innovation in the development of new electric heating products, you can be forgiven for being somewhat exasperated by the vast array of heating choices available to you – especially if you're not sure...
Feb 7
The Quantum heating system The Dimplex Quantum high heat retention storage heater is up to 27% cheaper to run and uses 22% less energy than comparable static storage heaters. Featuring exceptional insulation and very low thermal conductivity th...
Frequently asked questions
What is the warranty on the Dimplex storage heaters?
Dimplex offer 10-year warranty on their Quantum storage heaters.
The 10 year warranty is a standard 2 years, plus additional 8 years upon registration.
Product reviews
5.0
100% Positive (1 reviews)
Ratings based on data collected by third party reviewing platform.
Robert Gardner
22 June 2022 09:26
Installation easy, not fully setsed yet.
Efficient and fast.
Fantastic to hear, thank you very much for the really great review.
Spread the Cost
with our flexible finance plans
No deposit required
Choice of simple payment options
Easy, quick application
Instant decision